Breaking Down Common Refinancing Concerns
Blog posted On November 10, 2021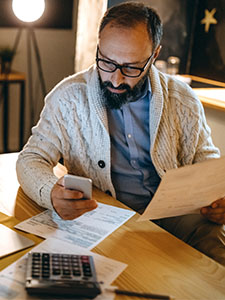 If you haven't refinanced your mortgage, it's probably for a valid reason. Maybe you don't think you would save enough or don't think you would qualify. Whatever the reason, it's likely that you've thought about it and come to a logical conclusion. However, it might be worth revisiting. Almost 14 million homeowners are passing up on hundreds of millions of dollars in savings for one of the following misconceptions.
Refinancing won't save me enough money
Many people don't think that refinancing would be worth it because they wouldn't save enough money. The goal for most homeowners with refinancing is to lower their interest rate and therefore lower their monthly mortgage payment. However, almost half of all homeowners don't know their current mortgage rate. If you don't know your current mortgage rate, then you probably don't have an accurate idea of how much money you could be saving.
Other homeowners might know their mortgage rate but aren't satisfied with the potential changes in their monthly payment. In this case, it's important to remember that even small decreases in your monthly payment can add up to thousands of dollars over the course of your mortgage. For example, if your original mortgage is a 30-year fixed rate loan of $400,000 at a 4%* interest rate, your original monthly payment would be $1,910. If you refinance after three years to a 30-year fixed rate mortgage of $380,000 at an interest rate of 3.5%*, your monthly payment would be $1,706. While $200 a month may not initial seem worth it (considering the expense of closing costs), it would save you over $12,000 in interest in the long run.
Closing costs on a refinance are too expensive
Refinances come with closing costs just like your initial mortgage. According to 2019 data from ClosingCorp, the national average price for closing costs is around $3,340 (without taxes). When comparing the price of closing costs to your initial monthly savings, it might not seem like refinancing is worth it. A large factor determining whether or not refinancing is worth it is the length of time you plan to stay in your home. If you're only going to be there for one or two more years, the expense of closing costs might outweigh your short-term savings. But if you plan to stay there for a longer period of time, you will likely pay off your closing costs and save more money.
Another option is to try and negotiate your closing costs. It's unlikely that your lender will waive 100% of the costs, but certain fees can be negotiated. You can also opt to combine your closing costs with your loan itself so that you're not paying thousands of dollars upfront. The downside to this option is the interest you will have to pay. Overall, every borrower has a different financial situation, and if you're curious about your options, the best idea is to simply ask us what might work for you.
There is too much paperwork involved in a refinance
Both refinancing and taking out an initial mortgage tend to have a certain amount of paperwork. There are several documents that you will have to provide and fill out, which can be overwhelming and unappealing. However, a lot of your paperwork and document submitting can be done online. The modern mortgage process is much different than it was 20 or 30 years ago. Plus, with the recent COVID-19 pandemic, mortgage technology has become much more widely used and readily available.
I don't have a good enough credit score to refinance
As with your initial mortgage, your refinance application will require a certain credit score. Depending on what type of loan you are refinancing, the credit score requirement might vary. There are several home loan options with lenient credit score requirements. And there are several easy ways that you can boost your credit score relatively quickly.
Overall, refinancing your mortgage can be a great opportunity to lower your monthly payment, get cash out, consolidate debt, and save thousands of dollars on interest. It may seem like refinancing wouldn't be worth it, but there are several refinancing options available, and we would be happy to find the perfect fit for you. If you have any questions about your mortgage, mortgage rate, or refinance options, we would be happy to talk. You can also learn more about refinancing options and benefits by checking out our mortgage refinance guide.
Sources: Grow, LendingTree, Time
*Payment example: If you bought a $350,000 home and put 3% down, for a loan amount of $339,500, with a 30 year loan at a fixed rate of 3.3% (APR 3.5%), you would make 360 payments of $1,525.00. Payment stated does not include taxes and insurance, which will result in a higher payment.