Buying a Home in the Current Market? Explore a Loan Less Dependent on Rates
Blog posted On October 20, 2022
A little over a year ago, the average 30-year fixed mortgage rate was just under 3%. Now, it's trending several percentage points higher. This is the sharpest rate hike over the past four decades and comes as a shock to many home buyers and leaves them thinking it's a bad time to buy. However, there is another alternative product, and if you use it correctly, it could actually be a great time to buy.
Products like the All In One Loan tend to be more rate-tolerant than traditional mortgages. Because of the way the mortgage product is structured, it can help home buyers and owners save a significant amount on interest costs – no matter what's going on in the market.
How it Works
All deposits to the account are directly applied to paying down the loan's principal, reducing the balance faster

Borrowers have 24/7 access to home equity and deposited funds through ATM debit cards, checks, online bill pay, and ACH transfers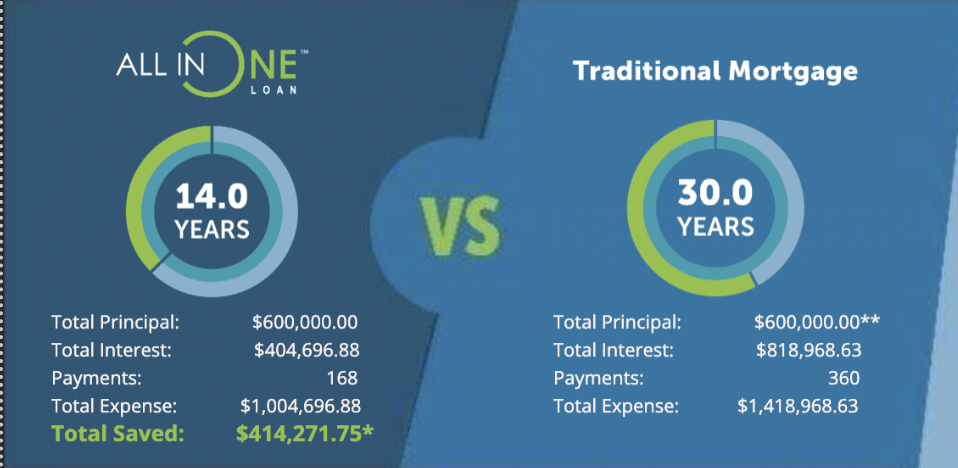 *Rate could rise during the life of the loan. The All In One Loan does not use a traditional amortization schedule. Principal is paid through deposits into the All In One Loan sweep-checking account. Interest is computed based on the nightly unpaid principal balance. Each day's interest is totaled once each month ends
**Conventional Payment example: If you bought a $660,000 home and put 10% down, for a loan amount of $600,000, with a 30 year loan at a fixed rate of 6.50% (Annual Percentage Rate 6.71%), you would make 360 payments of $3,876.00. Payment stated does not include taxes and insurance, which will result in a higher payment.
Now is Actually a Good Time to Buy
If you do some exploring and find the right mortgage product, now could actually be a great time to jump into the market.
Home prices are seeing a "forceful deceleration," says Craig J. Lazzara, Managing Director at S&P DJI when discussing the Case-Shiller home price index. "The -2.3% difference between [June and July's] monthly rates of gain is the largest deceleration in the history of the index."

Buyer competition is at a two-year low. Fewer buyers on the market means fewer bidding wars, lower prices, more incentives, and more options for hopeful owners.

With fewer buyers on the market, sellers are trying to sweeten the deal. Many might offer to pay for some closing costs, others might pay for discount points to lower your interest rate. Some might even offer to pay for a Mortgage Payment Buydown.
Rising interest rates are a valid concern when buying a home but there are several options that can help reduce the impact those rates have on your wallet. Don't let your dream home pass you by without exploring your options first! If you're interested in comparing your potential savings, you can use the All In One Loan mortgage calculator.