Housing Market Data Shows Early Signs of Recovery
Blog posted On May 19, 2020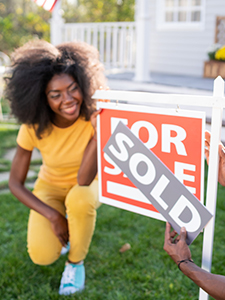 The coronavirus pandemic shuttered businesses around the world and has caused widespread economic slowdown. Like other industries, the housing market was impacted. Some sellers took their homes off the market and some buyers suspended their home search to avoid close contact with others and wait for stay-at-home restrictions to ease. As states and cities start to reopen, housing market data shows early signs of recovery. After a slower-than-average April, buyers and sellers are starting to re-enter the market.
Data from real estate brokerage, Redfin, showed 1 in 13 sellers "delisted" their home, or took the home off the market. For the week ending April 14, there were only 48,000 new home listings, about half of the number of homes listed during the same period last year. For the week ending May 1, new listings jumped by 62,000. Redfin's lead economist, Taylor Marr, wrote in the report, "supply and demand have begun to strengthen, even in places where Covid-19 is still on the rise. […] This has allowed prices to remain stable."
Sellers and buyers both face challenges when adhering to social distancing procedures. Sellers may not want to have new people entering their homes and buyers may not want to enter many different homes. Realtors and real estate agents have adapted to these changes by offering video walk-throughs and virtual tours. Much of the mortgage process can also be completed online or over the phone.
What to do if you plan to buy a home
If you're planning to buy a home, you should get preapproved for a mortgage first. Getting preapproved for a mortgage allows you to set your budget and also shows the seller you've already started the mortgage process. You can start your mortgage application online, over the phone, or through our mobile app.
Once you're preapproved, you can work with your agent to set up a virtual tour or visit the home on your loan. Some agents are offering video tours, and in some cases, buyers can tour unoccupied homes on their own, letting themselves in through a lockbox.
National Association of Realtors (NAR) chief economist, Lawrence Yun, warns not to expect any big discounts in the coming months. A NAR survey showed 74% of home sellers working with agents have not reduced their listing price to attract pandemic buyers.
What to do if you plan to sell a home
If you're planning to sell your home and buy another home, you should also get preapproved for a mortgage first. Talk with your lender and explain your plans to concurrently buy and sell.
If you're still living in your home, you can conduct video walk-throughs for potential buyers without your agent or anyone else being on-site. If you have a serious buyer that wants to physically see the home, you can either keep a six-foot distance from the buyer and wear a mask or arrange to be off-site. Be sure to sanitize any high traffic surfaces like doorknobs and countertops before and after the tour.
With the forced slowdown during the typically busy Spring months, we are expecting a busy summer for home buyers and sellers. If you have any questions about how we are continuing to safely operate, please let us know!
Sources: CNBC, Mansion Global, Money.com