How Long Will High Lumber Prices Last?
Blog posted On May 18, 2021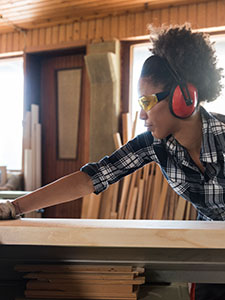 Lumber prices have been surging to record highs over the past few weeks. One year ago, random-length lumber futures were around $340, according to Nasdaq. Two weeks ago, they hit an all-time high of $1,670. If they continue to rise, construction projects could be significantly delayed, the housing shortage could worsen, and home prices could climb even higher than they already are. Many people are wondering "how did lumber prices get here?" An even more important question might be, "how (and when) will they drop?"
Why are lumber prices so high?
The coronavirus pandemic shut the majority of the country down last Spring, including sawmills. Few people thought this would be an issue for housing because many were expecting a slump in the market. To most of the industry's surprise, the market boomed. Low mortgage rates and the pandemic-driven desire to move to the suburbs pushed a shocking number of eager buyers into the market. However, with lumber production in a slowdown, fewer new homes were available for sale, and the supply side suffered. From April 2020 to Jun 2020, the Monthly Supply of Housing in the United States went from 6.8 months to 3.6 months – the lowest inventory ever recorded. Since then, the construction industry has been working hard to get more new homes on the market, and hopefully ease the upward pressure that low housing inventory is putting on sales prices. But sawmills were not prepared to handle this level of output. Partly because of their COVID-related slowdown, and partly because of the Great Recession in 2008.
In the early 2000s, the housing market was somewhat oversaturated with supply. Then, when the market crashed in 2008, new home construction crashed with it. Production slowed, sawmills closed, and millions of builders were out of work. Twelve years later, the industry's paying the cost. Not only is there a lack of sawmill production levels, but there's a severe lack of sawmill production workers as well. According to a recent study published by Deloitte and the Manufacturing Institute, as many as 2.1 million manufacturing jobs will be unfilled for the next 10 years. Manufacturers are having a harder time finding skilled workers in specific industries. The construction industry in particular is struggling to find workers. In January of this year, there was a shortage of over 300,000 construction workers. Sixty percent of builders reported a worker shortage. Without people to run the mills, lumber can't be converted into useful home building material.
How high lumber prices are affecting the housing market
The high cost and low availability of lumber is delaying construction projects, putting a strain on home inventory, and adding a hefty toll to sales prices. With limited lumber availability, new construction and renovation projects are taking longer to complete than before. "[The lumber shortage] has led to additional project delays, which has impacted both cash flow and the overall project schedule, meaning that homeowners are left in the middle of a construction project with their house torn apart and unfinished for a longer period of time," said Kenneth Kostecki, a contractor/remodeler from Virginia. "When talking to prospective clients about projects, lumber pricing is now always part of the discussion, as they are aware of the issue, and are all concerned about how that may impact the cost of their projects." With the drastic increase in lumber prices, consumers are paying more for home construction projects – around $36,000 more, according to the National Association of Home Builders (NAHB). "While lumber prices have gone up, we have been able to pass it on to the consumer with higher prices for homes," Jeffrey Mezger, the CEO of KB Home (KBH), told CNN Business.
When will lumber prices start to fall?
"Builders can't jack up prices forever," says Matt Egan of CNN Business. Home buyer demand has been relatively unaffected, but at some point, home affordability will become pinched, and demand will likely level out. Plus, if President Biden takes action, lumber prices could ease out. Right now, lumber tariffs are contributing to the increase in lumber costs. Under the Trump administration, lumber tariffs were cut to 9%, but now the home building industry is urging President Biden to take further action. NAHB Chairman Chuck Fowke says that if the Biden Administration "temporarily remove[s]" the 9% tariff on Canadian lumber, this could help "ease price volatility." Even without the potential help of tariff removals, industry executives expect that lumber production will eventually catch up to demand. Many industry experts think that we're in the worst of the shortage right now. Some predict that lumber prices will see a sharp fall within the next 18 months.
We're already seeing lumber prices starting to trend downward. Last week, they were in the $1,500 range. Whether or not this is the beginning of the "sharp decline," remains to be seen.
Part of the reason why lumber prices are so high is to keep up with the high home buyer demand spawned on by low mortgage rates. Another way to take advantage of low rates and avoid high lumber costs is by refinancing. If you refinance now, you could save thousands on interest over the life of your loan and use those savings to help fund a renovation or down payment in the future. Let us know if you would like to explore your refinancing options.
Sources: CNN, CNN, FRED, NAHB Now, Nasdaq, PR Newswire