Market Recap: Home Prices Appreciate, Pending Home Sales Fall, No Rate Cut
Blog posted On May 01, 2020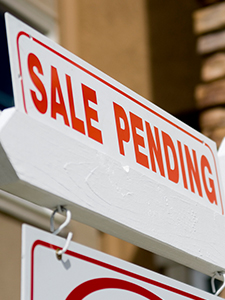 The Federal Open Market Committee (FOMC) met virtually on Tuesday and Wednesday of this week, and Federal Reserve Chair Jerome Powell delivered a press conference and met with reporters over video chat following the meeting. Mortgage rates did not move significantly this week, continuing to trend lower. Home price appreciation continued upward in February. Pending home sales dropped significantly in March.
The Case-Shiller home price index tracks changes in the value of homes involved in two or more sales transactions across twenty major metropolitan areas throughout the country. In February, the 20-city index appreciated 0.4% month-over-month and 3.5% year-over-year. Strong home buyer demand and limited available homes for sale contributed to price gains. Phoenix, AZ led annual gains, up 7.5% followed by Seattle, WA up 6.0%, and Tampa, FL and Charlotte, NC tied for third with annual gains of 5.2%. Since the data lags by one month, we have not yet seen the full extent of the coronavirus pandemic on home prices.
The pending home sales index fell 20.8% from February to March as some would-be home buyers suspend their search due to the coronavirus pandemic. Real estate professionals suspect the sharp decline will be temporary as buyers adjust to a more virtual home buying experience. National Association of Realtors (NAR) chief economist Lawrence Yun explained, "as consumers become more accustomed to social distancing protocols, and with the economy slowly and safely reopening, listing and buying activity will resume, especially given the record low mortgage rates."
The FOMC met virtually on Tuesday and Wednesday and voted to leave the benchmark interest rate unchanged. The Fed has taken significant action to help reduce the economic damage brought on by the coronavirus pandemic. In March, it cut the benchmark interest rate close to zero and bought nearly $2 trillion in treasury and mortgage related assets. The Fed has also contributed $2 trillion to lending programs. In his press conference, Chair Powell predicted the economic data will worsen in the second quarter, but the Fed is doing everything it can to lessen the negative impact.
With interest rates historically low, many homeowners are choosing to refinance their mortgages and lock in a lower interest rate. If you have any questions about refinancing and whether or not you are a good candidate, please let us know.
Sources: CNBC, Econoday, MarketWatch, MarketWatch, Mortgage News Daily, Reuters