Market Recap: Mortgage Applications Jump, Existing Home Sales Decline, News Home Sales Surge
Blog posted On April 23, 2021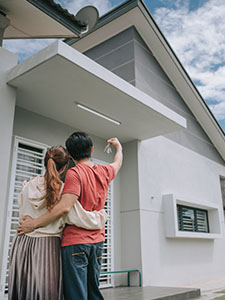 Mortgage rates fell this week, trending near lowest levels since the beginning of March. The bond market was "fairly stable," according to Mortgage News Daily. Yesterday, the proposed increase in capital gains tax rates pushed bond yields down. Consequently, many lenders reported drops in mortgage rates as well
In other market news, mortgage application submissions climbed for both new purchases and refinances. Existing home sales slowed but new home sales rose at their fastest pace in 15 years.
During the week ending 4/16, the Mortgage Bankers Association (MBA) reported a composite 8.6% increase in mortgage application submissions. The Purchase Index jumped 6% week-over-week. Compared to last year, purchase application submissions were up 57%. The Refinance Index increased as well, up 10% week-over-week. "Mortgage rates dropped to their lowest levels in around two months, prompting a small resurgence in refinance activity after six weeks of declines," said Joel Kan, MBA's associate vice president of economic and industry forecasting."Borrowers acted on the decrease in rates for most loan types, with both conventional and government refinance applications showing gains."
In March, existing home sales dropped to a seasonally adjusted level of 6.01 million. Though existing sales dropped 3.7% month-over-month, they're still over 12% higher than they were last year. A large contributor to the decline in existing sales was the 4.3% decrease in single-family homes. Condo sales rose by 1.4%. Inventory rose as well – reaching a 2.1-month supply in March. As the supply of homes continues to rise, so should the number of sales. The drop in existing sales in March shouldn't reflect a long-lasting trend. Instead, it "reflects the prior month's bad weather (which curbed transaction closings in March) rather than a downward shift in underlying demand," said Sal Guatieri, senior economist at BMO Capital Markets.
New home sales soared 20.7% in March. The 1.02-million-unit pace was the fastest recorded since 2006. Following February's winter-storm related slowdown, new home sales in March bounced back much higher than expected. Compared to their level in March 2020, new sales were up by over 66%. The median sales price of new houses sold was $330,800.
As mortgage rates continue trending downward, now is a great time prepare for your purchase or refinance. Locking in your rates while they are low could save you thousands of dollars on interest over the life of your loan. To get started, contact us or click the "Get Started" button above.
Sources: Census, MarketWatch, MarketWatch, MarketWatch, MBA, Mortgage News Daily, Mortgage News Daily