Signs the Real Estate Market is Going to Change
Blog posted On November 10, 2020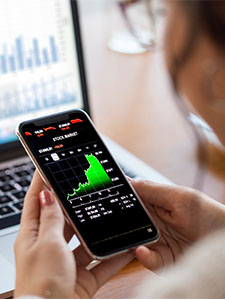 Over the past several months, mortgage rates have dropped to all-time lows while home builder sentiment has reached record-breaking highs – suggesting a busy future for the real estate industry. But if 2020 has taught us anything, it's to expect the unexpected.
Despite the housing market's positive trends and promising stats, the coronavirus' uncertain future has many people wondering what's next? Some experts are preparing for a slowdown – pointing out an eerie similarity between the recent real estate trends and pre-bubble housing market in the early 2000s. Others, however, are anticipating sales to stay strong, emphasizing that, unlike the early 2000s, we are entering into the best housing demographic patch in United States history.
There's no question that the U.S. housing market is thriving right now – outperforming most other economic sectors worldwide. The question remains: how long will it last?
If you're one of the many people questioning what's to come and who to listen to, listen to the facts. The biggest fact is that the real estate market runs in cycles, not spikes. "It's really not a black-and-white, 'now it's hot; now it's not' scenario," says Ron Wynn, a noted speaker, trainer, advisor and writer affiliated with Compass Real Estate.
Even in the most unfamiliar circumstances, the real estate market will still flow through a familiar cycle. Understanding this cycle and its triggers can help give you a better idea of what's happening and what's to come.
In general, the four main parts of a real estate cycle are: recovery, expansion, hyper-supply, and recession. Recovery is the stage after a recession, where there is low housing demand and high vacancy. Expansion is when the market starts to expand, housing supply and demand are balanced, and new construction increases. Hyper supply occurs when there are more houses for sale than people looking to buy, and construction begins to slow. Recession is where new construction drops drastically, unemployment rises, and home prices are at their lowest.
When trying to predict when a housing market change is coming, look for one or more of these six main triggers.
Rising political concerns.
Rising unemployment or decreased trade.
Sharp increases in utility, oil and gas prices.
Sharp stock market drops.
Rising inventories of unsold homes.
Sales prices drop and bidding wars decline.
Though some may apply to the current market, such as rising political concerns, others do not, such as inventories of unsold homes, rare bidding wars, and rising unemployment. Unemployment is still higher than pre-pandemic levels, but jobless claims have been decreasing for several weeks, and bidding wars are on the rise. Inventory of unsold homes is very low, though new construction is gradually climbing.
The pandemic has many people worried about the country's economic future, but the housing market is looking like it will stay strong into 2021. There are several uncertainties about the future and how it will be affected by the uptick of coronavirus infections, but mortgage rates are likely to remain in a historically low range, making it a great time to buy. If you have any questions about the real estate market, talk to your agent. Then, talk to us about how to get started on your mortgage application today.
Sources: Fortune Builders, Fox Business, Housing Wire, Investopedia